Imagine making the right steps, in the right direction, every time.
It's possible… with a guide,  a mentor, and a friend.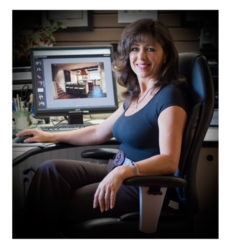 Jan Addams LIIID, MIRM has already figured out the twists and turns in how to create Interior Spaces to display (model homes), live in (build/ renovate) or, sell (Merchandised / Staged).  These are decisions that can throw a person into a tailspin, but she is here to ensure your success.
Jan herself has learned from successful Interior Design Coaches and Business Consultants including Kay Green;  Heidi Decoux; Beth Schnieder; Brendon Burchard; Sherry Borshiem
She has invested in herself and invites you to invest in yourself!  Jan has already figured out how to simply and easily be more productive in your office and on your interior projects and more profitable in your business by organizing and branding around your 'personal style'!  Failure is not an option, and dreaming and looking at Success magazines and TV Shows is not a strategy.
---
What Jan's clients are saying about her
"…To watch her move items we already owned and transform the space was amazing."   Don & Mary Gamble
Top Qualities: Great Results, Good Value, Creative
"…The personal style questionnaire sheets that we filled out at the beginning were quite an eye-opener on facts that I thought I had a pretty good idea of what my likes and dislikes were …"
Diana & Ed Simas – Simas Design & Development
"…"Thank you for the fabulous colours you have chosen for the townhouse complex. The colours have added thousands of dollars to the value of the complex."
April Marshall, Standard Holdings
"… Jan's good sense of humour, interpersonal skills and experience kept the process enjoyable.  We called her our design mediator. When we got stuck on an idea or, our personal choices got in the way, Jan would help us work through the issue until we were both comfortable with the decision.."
Judy & Erwin Karst, Artist & Engineer
---
Are You Ready to Hire a 'Business Behind Design' Coach?
You are ready if…
You desire to simplify and streamline your office around your lifestyle so you can go on and fulfil your business dreams. The reason to work with a Business  Behind Design Coach is to facilitate change. A coach helps you gain clarity, information and the resources to organize, automate and streamline your interior design business and projects.
You are committed to achieving your goals. The fact that you are considering working with a Business  Behind Design Coach indicates that your goals are extremely important to you. Pairing that commitment with someone that understands your industry will accelerate the process of reaching your goals.
If you have decided that making a change is more important than staying the same, a Business  Behind Design Coach can help you clarify and accomplish your goals, save more money, and master your time.
You are willing to accept new perspectives about your interior space. Working with a consultant gives you the opportunity to get an objective view of your home or office and your path to creating a pleasing and functional space. A Business  Behind Design Coach's view provides an opportunity for you to see your interior business from the 'big picture' quickly while putting out the least amount of time, money and effort.
You are willing to invest money in you. Hiring a Business  Behind Design Coach is one of the greatest ways to invest in you (and YOU are your most valuable asset). It is through consulting that you will 'STOP Products and Programs that aren't unique to our Industry', take action, move forward, gain the necessary information and resources to create and design an interior business that you love!
You are willing to take action. Coaching is an action-oriented process. You and I will discover the SIMPLE action steps required to streamline and simplify your business and interior projects. These steps will allow you to achieve your goals as quickly and easily as possible.
---
BUSINESS Behind DESIGN
by Jan Addams Principal Designer and President of IMAGE TO INTERIOR INC.
Supporting Interior Professionals to become Simply Profitable by Design…
Hear What Others are Saying – TESTIMONIALS:
Hi Jan,
After the first day of the 'BUSINESS Behind DESIGN' training class, whose first module was on The Triple ID Style Classification System©, I came home and decided to use my new found knowledge on my husband. I looked at his body type and realized that he a "T" shape and classified him as a "Substantial" body type.
After so many years of marriage I never really gave it much thought of what style he liked. I asked him if he like blunt edged large-scale furniture which was casual. Remembering back to the furniture from his bachelor days this was already confirmed in my mind before he spoke. He was amazed at how this was so accurate of his style and "Doer" personality trait.
Later, I tried this on my girlfriend. She also was amazed and feels it applies to her business as well, which is real estate.
Since then, I have used this on clients too. Amazing system Jan!!
Now I have graduated from the BBD course and I am using 'Contact to Completion the 8 Step Communication System ©' in my business, I have to say this system is awesome as it makes organizing my Interior Projects so much easier. I love the colour coded steps & tabs as they allow me to look at a glance and know exactly where everything goes!
Thanks for making my life easier!
Cara Lawson
Decorating & Design Consultant
Accredited Member of CDECA
Certified III Design Style Consultant
Proud Building Sponsor of the 2009 PNE Prize Home
www.CaraInteriors.com
---
Hi Jan,
I just wanted to thank you as The Triple ID Style Classification System has helped me recognize clients style needs very quickly creating less wasted time developing concepts and proposals that don't work for their personal style.
It has also helped me clarify my personal and business goals which were in need of repair! I feel more confident and with that confidence comes a renewed sense of well-being and focused direction.
Thanks Jan!
Heddy Bing
CDECA, CIIID
Retail Design Consultant
Accredited Member of CDECA
Certified III Design Style Consultant
www.UrbanSpaces.com
Urban Store Design
---
Hi Jan,
Your Business Behind Design Program has already helped me with 2 new clients. I have used the 'mini style assessment' to discover who my prospective client really is and how to deal with her.
Thanks for your help…
In Contact to Completion™ the 8 Step Communication System© I love the duplicate meeting notes – that one idea is priceless. So many times miscommunications start at a simple meeting. The CONNECT – Meeting Notes & Recap form saves the day along with giving a reason to wrap up and do a recap at the end of each meeting.
Kandys Merola
CDECA, CIIID
Accredited Member of CDECA
Certified III Design Style Consultant
KISS – Kandys Interior Style Services
www.kissdesignservices.com
---
Jan Addams believes our Style begins inside and is expressed in our Mindset, Wardrobe, Interior Design & Lifestyle and then flows into our Business Brand & Organizing Style.
To find out if you qualify for this unique BUSINESS Behind DESIGN Coaching Service – guaranteed to change your life and career – and finally become Simply Profitable by Design –email Jan HERE info@JanAddamsDesign.com  for a FREE 20-minute Phone Assessment